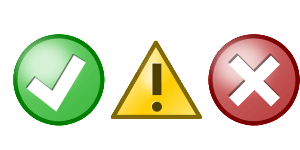 Sometimes setting up a VPN service can give you an error code, the most likely error code is the error 691.
The error 691 is an account authentication error, username and password are not active.
If you have only just opened a new account with us, please wait for the second email from us with your account activation details, sometimes there may be a small delay for a couple of minutes if the payment system is busy.
We have listed all common VPN error codes and solutions below.
ERROR 789
This is an L2TP error. Try to use PPTP instead. If you are using VISTA, please make sure that you initiate the L2TP connection using our connection tool and not the network wizard. To use L2TP on Windows XP and 2000, you will need to download and run our registry file. Please restart your computer for the registry changes to take effect. DOWNLOAD HERE.
(To install a .reg file, download it, locate the ipsec.reg file, double click it and accept when asked if you want to add to your registry. Reboot your machine for the changes to take place.)
ERROR 619
This error is most frequent on networks where PPTP is blocked. Select an L2TP server to connect. Please note that Windows XP might give error 789 with L2TP. Please see the solution above in that case. If you wish to use PPTP, please try by disabling your firewall.
ERROR 691
This is a simple authentication error. Please make sure that you use the correct username and password. You might also get this error, if you try to log into the same VPN server more than once at the same time. If you suspect that someone else may be using your account, please contact us so that we can change your password.
ERROR 806 or ERROR 721
A firewall or your ISP is blocking your VPN access. Please try connecting with both PPTP and L2TP. Our OpenVPN uses the standard ssl web port (443) and may pass through most firewalls. If both PPTP and L2TP fail with this error, please disable your firewall and try to connect after that.
ERROR 807
Most likely your virus filter or firewall application is blocking your VPN access. Known applications are AVG, BlackIace, Zone Alarm, Avast 5.x . Please visit your filter solution vendor's website for the solution. (Please also see the similar error 806, 721).
ERROR 809
This error is most frequent for mobile Internet users whose data plan expired or ran out of available credits.
Unable to run the PBK file. Adobe PixelBender starts
Please download and run our registry file and reboot your computer. DOWNLOAD HERE.
OpenVPN connected, but my IP didn't change
On Windows Vista and Windows 7 you must run OpenVPN as an administrator.
VPN connected but still outside UK
Mac, iOS and Android users may find that although connected to the VPN server, it still does not work with UK blocked websites. This is probably a small box that wasn´t checked when setting up the VPN connection. Please run through the setup again and make sure the box that says something like "Send all traffic to run through the VPN" (depending on version), make sure that box is checked and try again.
Buffering problems
If you are having buffering problems, this could be your router or Internet connection speed. Take the following steps to keep your Internet speed up to standard.
1, Reset your router at least once a week. To do this, locate the small button or hole (you may need a cocktail stick). Hold down the button for 5 seconds, switch off your router / modem. Switch back on after 5 seconds and to make sure, reboot your computer and try again. If your router does not have a reset button, simply switch it off for 15 seconds and back on again.
2, The server you are connected to might be having some problems or might be less compatible in your location, simply switch to one of our other servers.
3, If you are using a WIFI hotspot, please check your Internet speed to make sure that your speed is 1mbps or above, if it is slow, try to switch to a LAN cable connection instead. Check your connection speed here.
If the error you are having is not listed on this page, please click here to access our complete VPN errors database and if you are still having problems, leave a comment below and someone will reply.